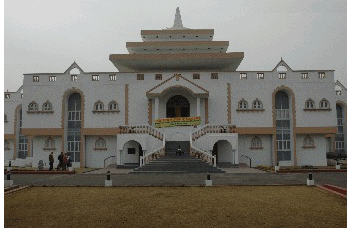 Jammu District derives its name from its headquarters and State's winter capital, popularly known as CITY OF TEMPLES. It is located between 74 degree - 24' and 75 degree - 18' East longitude and 32 degree - 50' and 33 degree - 30' North latitude.
It is bounded by Udhampur district in the north and north east, Kathua district in the east and south east, Pakistan (Sialkote) in the west and POK (Bhimber) and Rajouri district in the north west.
According to the most acceptable and popular legend, Jammu city was founded by Raja Jamboo Lochan in 14th Century BC as he found divine power here. During one of his huntings, he reached near a river (Tawi) where he saw a goat and a lion drinking water together at the same place. The King was impressed by harmony of the area and decided to set up a town which was named after him. With the passage of time, Jamboo came to known as Jammu.